Butters is awarded Idaho Progressive Businessperson of the Year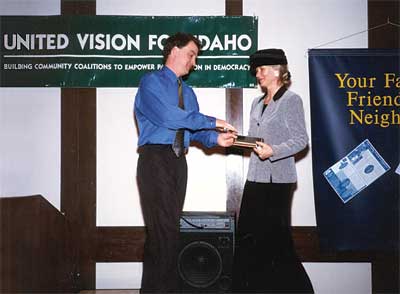 MOSCOW — MaryJane Butters, a Moscow entrepreneur whose organic prepared foods are sold nationwide, will receive the progressive businessperson of the year award from United Vision for Idaho.
The award will be presented at the organization's fourth annual banquet Jan. 7 at the Owyhee Plaza Hotel at Boise.
Billed as an evening to celebrate Idaho's progressive traditions, the dinner is organized by United Vision for Idaho each year at the opening at the state Legislature.
The staff, based in Boise and Moscow, works with member organizations and activists to promote social, economic and environmental justice.
The awards honor those who have dedicated their lives to promoting the same values, said Jim Hansen, executive director.
Butters has been an environmental leader, first as a wilderness ranger and later as a founder of both the Palouse-Clearwater Environmental Institute and Hanford Watch.
Now she is leading the way to a sustainable agricultural system in Idaho by creating a market for locally produced organic foods.
Butters sells 60 different foods, from salsas and soups to breads and pasta entrees, in retail stores and through phone orders and her Web site.
Founded in 1995, United Vision for Idaho's 21 members include the following organizations, representing more than 50,000 people:
Boise Central Trades & Labor Council
Church Women United
Council on Hispanic Education
Hispanic Heritage Society
Idaho Community Action Network
Idaho Conservation League
Idaho Education Association
Idaho Head Start Association
Idaho Hispanic Caucus
Idaho Migrant Council
Idaho Nurses Association
Idaho Rivers Council
Idaho Rural Council
Idaho Women's Network
Living Independence Network Corporation
National Association of Social Workers, Idaho Chapter
North Idaho Central Labor Council
Nurse Practitioner Conference Group
Palouse-Clearwater Environmental Institute
Snake River Alliance
The Interfaith Alliance of Idaho
Women of Color Alliance
Your Family, Friends & Neighbors